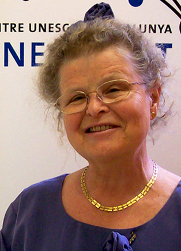 "125 years of Esperanto"

Dr. Tove Skutnabb-Kangas
Emerita, University of Roskilde, Denmark and
visiting professor at Åbo Akademi University Vasa, Finland
It has always amazed me that many linguists and others seem to dismiss Esperanto as an alternative to today's international communication, without actually knowing (almost) anything about it. Of the world's planned languages Esperanto is today the most known and used. I see lots of benefits if people take it seriously.

Firstly, Esperanto takes much less time to learn than any 'natural' languages, because it is regular and logical - there are no exceptions. Still you can say whatever you want in Esperanto, also because everybody can easily create new words. These are immediately understandable for everybody else as soon as they know the root that the new word is based on - Esperanto words are relatively transparent. Besides, there is a lot of literature in Esperanto already.

Secondly, there are studies showing that learning Esperanto has propaedeutic value for learning later languages. If you have studied Esperanto first, you learn other languages faster because you know much more about how a language functions.

Thirdly, Esperanto would be a perfect lingua franca for countries and groups with many languages; instead of starting to learn English that takes years and years to learn really well, people could learn Esperanto fast and communicate with each other in it in a fraction of the time they need for becoming proficient enough in English. For international cooperation, for Indigenous peoples, for many multilingual countries, Esperanto would be a good solution. Nothing prevents people from learning English additionally anyway - but instead of waiting for years while learning English (or Spanish or Chinese or whatever) people could start communicating almost immediately through Esperanto.

Fourthly, as opposed to any big dominant languages, Esperanto has (and can have) no imperialist tendencies. It is genuinely not connected to anybody's economic or political interests.

I see Esperanto as a possible viable alternative to today's languages for international communication.

"Ignorance and prejudices may prevent useful solutions."